Depending on the crypto currency you play with, the fees change dramatically!
We will see how to change the crypto currency on Stake to convert it to $ for example.
Then we'll see how to save on fees by choosing a crypto currency with low fees.
To start, when you log in, just click on your wallet at the top, then :
– Display in Fiat (choose the currency $ for example)
– Play now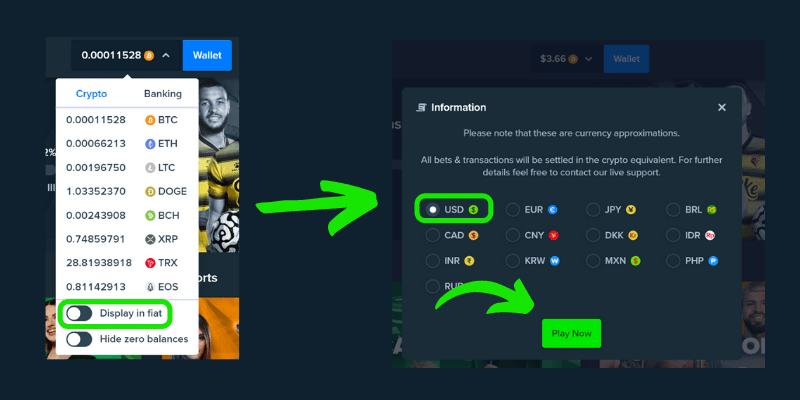 This way, you can see the amount of your cryptos directly in $, which makes it much easier to bet a specific amount in slots or other games.
Save on Stake fees using Litecoin (Ltc)
Depending on the crypto you play with, you can make great savings for free!
Indeed, you can save more than $5 easily by choosing LTC instead of ETH for example.
The withdrawal limit is also much lower for Litecoin (LTC), you can withdraw less than $10 for example, while with (Ethereum), you will have to withdraw more than $20 minimum!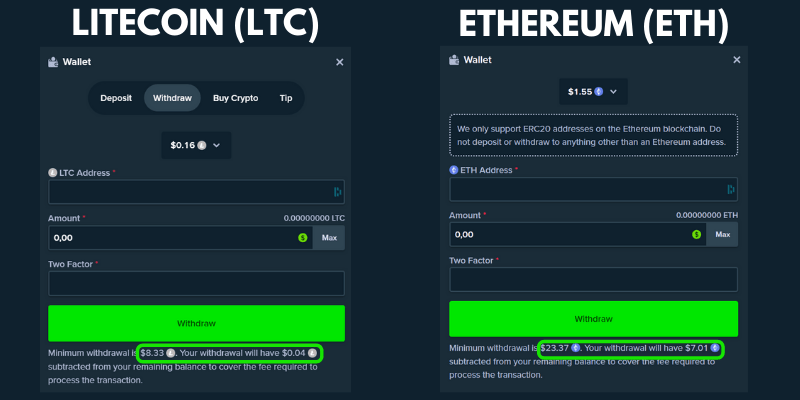 On the example of the picture you can see that the minimum withdrawal amount in $ and the fees are :
– $8.33 for LTC with $0.04 fee
– $23.37 for ETH with $7.01 fee!
So we clearly advise you to play all the time in Litecoin, because in addition to having lower fees, the transfers are much faster!
Don't forget!
Get up to $50 totally free when you sign up with no deposit via our link!
Just send us your username on Telegram or by email. Best No Deposit Bonus : Up to $50 Free!

Sign up and receive up to $50 in Bitcoin, no deposit required.
Join Stake.com & Get FREE $50 BTC