Stake is known to be one of the most popular online cryptocurrency casinos in the world. But, it is also one of the best bookmakers in the market.
Why?
Because it offers a wide variety of sports: more than 25 categories including esport.
It offers the best odds on the market.
It is therefore very interesting to play sports predictions on Stake.
Stake offers the possibility to make simple or multi sports bets.
Did you make a sports bet on your favorite team, but the game doesn't go as planned? Important information:
Stake offers a solution: the Cashout.
This simply allows you to either recover a part of your stake in case your match does not go well, or to cash out of the profit before the end of a match that goes well.

To do this, simply go to your bets.
Attention: It is not always possible to cashout depending on the progress of the match.
Very often, at the end of the match you will not have the possibility to do so.
Just click on Cashout.
Then confirm your Cashout.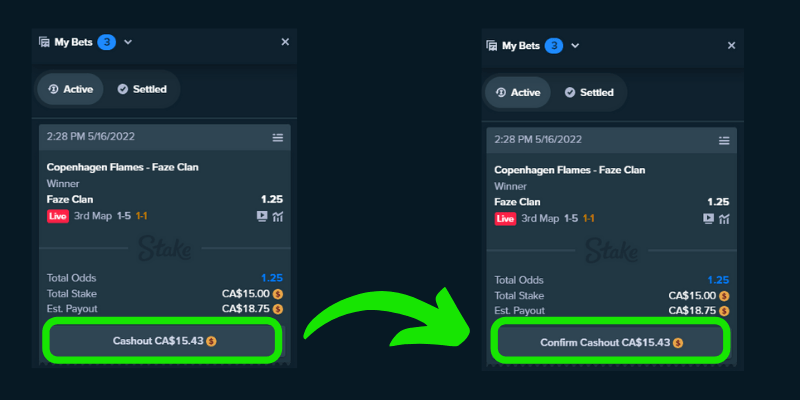 The amount will be credited directly to your balance and your bet will be over.
This is an interesting solution if you feel that your team will lose.
On the other hand, if your team is lucky and has a good start but you are not sure of the result, it may be worthwhile to cashout a bet with profit.
Important information:
– Stake offers one of the best VIP programs with rank rewards and plenty of bonuses.
Sports betting allows you to progress 3x faster in the VIP ranks than the casino.
We have developed an effective strategy to bet the most with the least risk.
More information HERE
Don't forget!
Get up to $50 totally free when you sign up with no deposit via our link!
Just send us your username on Telegram or by email. Best No Deposit Bonus : Up to $50 Free!

Sign up and receive up to $50 in Bitcoin, no deposit required.
Join Stake.com & Get FREE $50 BTC